Why I body-paint
---
I love to be able to create something from scratch. Body-painting allows me to use my imagination, apply it to a human body with all its uniqueness, and record the outcome with photos and videos.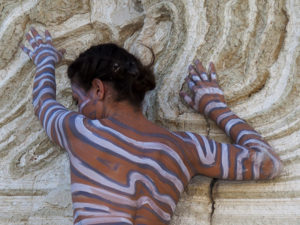 My artistic career began as a painter. While studying art, I focused on photography. Nevertheless, because I missed painting, I began to mix both art forms: first with photo collages, and later with body-paintings.
By matching colours and forms from my fantasy, the body gets an extra dimension. Because body-painting is three dimensional, it is demanding in a different way than photography or normal painting are. You have to face the challenge of making something that envelops a human body: it goes around infinitely.
My models have a great share in the artistic result. While I paint, they have to stand still and remain patient, often for several hours. After the painting is completed, the process of documenting it only begins. Models bring all their energy to pose with full elegance and charm, and often use dance to add a dynamic element to the art.
Due to Dutch weather circumstances, I have made most of my body paintings indoors. Nevertheless, nature is often a source of great inspiration. I have made outdoor body paintings in the Netherlands, Israel and France.
Presently I am looking for a publisher, who would like to publish my body-painting books.
See all my body-paintings