You as a model?
---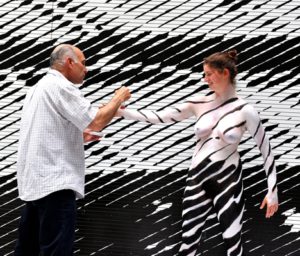 New models are often a source of inspiration. I am regularly looking for young (18 to about 35 year old) female models or mixed couples, for my nude photos, photo collages, body-paintings and drawings.
If you are in Holland or are planing a visit, and are interested in taking the challenge of posing for me, please fill out the form below. You don't have to be experienced or professional and it is absolutely not necessary to look like Miss Universe. You are sure of your own appearance, and would like to pose nude for the art. Please notice that a body-painting session is only possible after first doing a nude session. Dancers and sportswomen are especially welcome.
In any case I promise to respond to your application quickly. If we agree about cooperating, you will naturally be rewarded for your work by a beautiful drawing or photo-prints, devoted personally to you.
If you would like me to make photos, body-paintings or drawings for yourself only, and not for publication, please fill out the request form. In that case, your age or gender are not important at all.
Discrete handling of your information is guaranteed in all matters.