You as a model?
---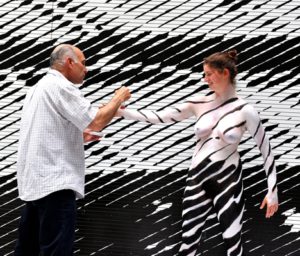 Nederlands
Nieuwe modellen zijn vaak een bron voor inspiratie. Daarom ben ik regelmatig op zoek naar vrouwelijke (18 tot ongeveer 35 jaar) modellen of gemengde stellen, voor mijn naakttekeningen, naaktfoto's en bodypaintings. Danseressen en sportsters zijn in het bijzonder van harte welkom om hun medewerking aan te bieden. Ervaring is handig maar niet noodzakelijk. Let a.u.b. op: allereerst, de leeftijdsbepaling is absoluut niet heilig en ten tweede, een bodypaintingsessie kan alleen worden uitgevoerd na een naaktsessie. In het geval dat je hier geïnteresseerd in bent en de uitdaging wil nemen, vul a.u.b. het formulier hieronder in. In ieder geval zal ik z.s.m. contact met jou opnemen.
Voor het poseren en toestemming voor publicatie van de gemaakte foto's en video wordt je beloond in de vorm van een mooie tekening/schilderij, of een paar prachtige foto's naar jouw eigen keuze.
Als je foto's of tekeningen voor jezelf alleen wilt hebben, die dus niet voor publicatie vrijgegeven worden, vul dan s.v.p. het opdrachten formulier in. Hierbij speelt dan leeftijd of geslacht geen enkele rol. Discrete behandeling van jouw gegevens is in alle gevallen gegarandeerd.
English
New models are often a source of inspiration. I am regularly looking for young (18 to about 35 year old) female models or mixed couples, for my nude photos, photo collages, body-paintings and drawings.
If you are in Holland or are planing a visit, and are interested in taking the challenge of posing for me, please fill out the form below. You don't have to be experienced or professional and it is absolutely not necessary to look like Miss Universe. You are sure of your own appearance, and would like to pose nude for the art. Please notice that a body-painting session is only possible after first doing a nude session. Dancers and sportswomen are especially welcome.
In any case I promise to respond to your application quickly. If we agree about cooperating, you will naturally be rewarded for your work and permission for publication of the photos and video. It will be by a beautiful drawing or photo-prints and a copy of the video, devoted personally to you.
If you would like me to make photos, body-paintings or drawings for yourself only, and not for publication, please fill out the request form. In that case, your age or gender are not important at all.
Discrete handling of your information is guaranteed in all matters.