About me
---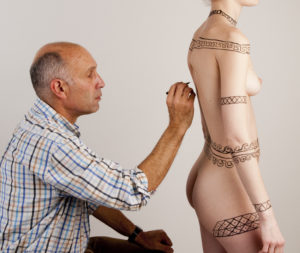 I was born in Kibbutz Kfar Hamaccabi, Israel, in 1950. Studied Creative Arts  at the University of Haifa as well as with Comparative Literature. While studying art, I dedicated myself more and more to photography, and graduated with a final project on children photography.
Since 1988 I live in Doetinchem, The Netherlands, and work as a freelance photographer and (body-)painter. In my commercial work I fulfill commissioned assignments from individuals, organizations and companies. At the moment I took a pause of these activities.
For many years I have been exploring the relationship between painting and photography in my artistic work. I started to combine both forms, starting off with photo collages. Later, I was delighted to have found my passion in creating body paintings, as an expression of my love to these two forms of art. See further About body painting and Why do I paint bodies.
You are welcome to share your opinion about my work with me, by signing my guestbook or by sending e-mail. Not less important, you can give an assignment!
Thank you very much for your visit. I wish you lots of pleasure on my site!
Amit Bar